The Hair Coaching journey is one in which you have a clientele of individuals who receive Coaching from you for different purposes depending on where they are in their hair journey. Some people come to you for Hair and Scalp issues, some desire to achieve waist length, others want to get their routine right and maintain their Hair consistently through all stages and seasons of life. These could include but not limited to;
Children's Hair loss
Pregnant Women's Hair loss
Hair loss due to hormonal imbalance
Hair damages by tight hair styles
What really makes you a proactive Hair Coach?
From the list above, you can see that being a Hair Coach is very deliberate, precise and goes beyond knowing how to care for your own Hair or even formulate Hair Care Products.
What is it really like in the life of being a Hair Coach;
You have to have the right knowledge of Hair and Scalp disorder
Understand Hair Care Science
Leave your own Hair out of it
Understand product ingredients
Understand location factors
Understand climatic factors
Understand dieting for hair
Having said all this, here are the 5 signs you are a proactive Hair Coach below
If you are still not sure about Hair Coaching and whether it is the right path to take, you can take the quiz via this link to find out.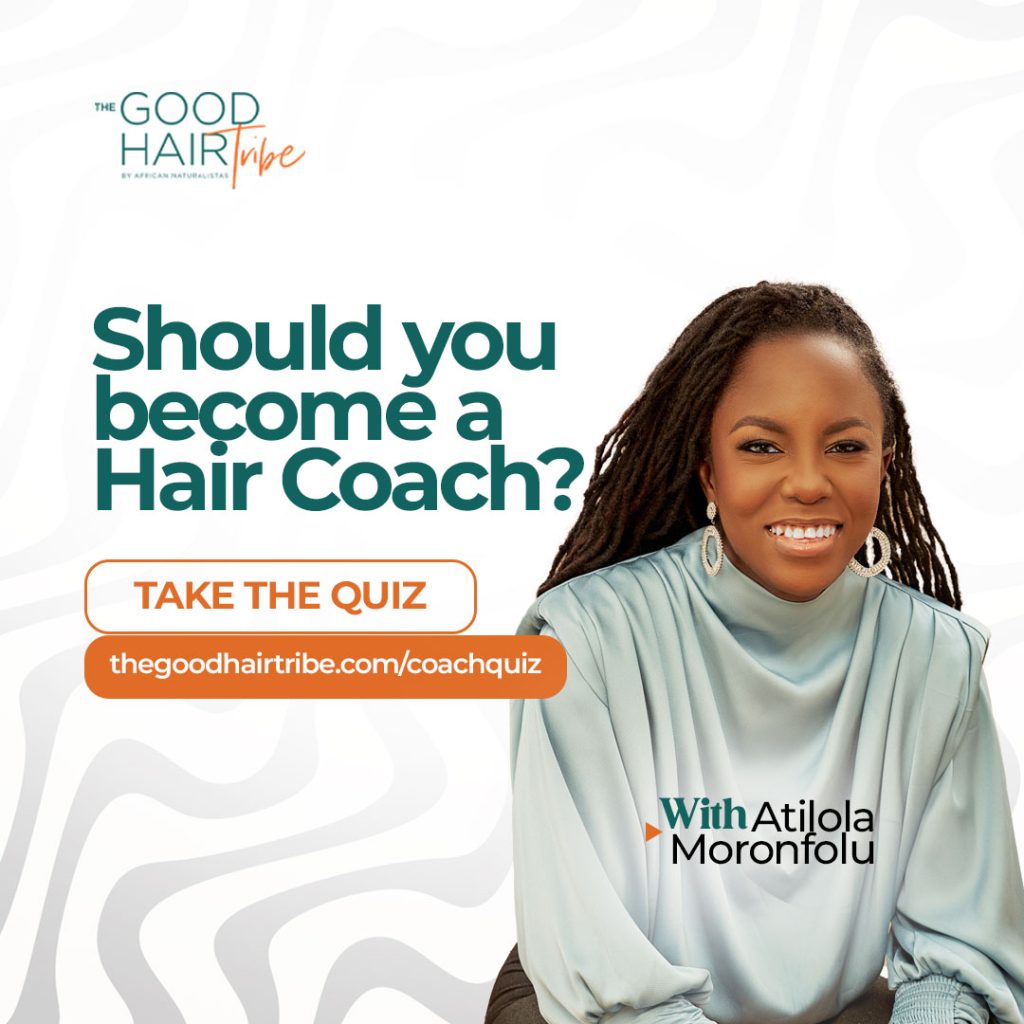 1. You make knowing your clients a priority
Is this a given for you or nah? Well for sure you have to do your best to get to know your client, on a personal basis. Now I'm not saying become 'besties' in a day or anything, however, understanding who your client is, where they are coming from, their lifestyle, their diet, and their family situation among other things, helps you know how effective your coaching sessions would be.
Trust me, you don't want to be in a position where you tell your client to follow a regimen to solve their Hair issues, and they are out there doing their own thing, because they would end up saying your sessions don't work when in fact, it is their own circumstances that is hampering the progress of their hair.
You can eliminate this kind of error by getting to know a bit about your client. This would also inform the kind of advice you give as well as the tenure you would be working with such clients.
Side note would be that, this typically shouldn't take you more than a few minutes because of cause, it is not a therapy session. This is just to help you get a feel of what you are about to deal with as a Hair Coach.
2. You ask your clients about their Hair history
Just like doctors make diagnostics before treating a patient, as a Hair Coach, this is the next best thing you should actually do after getting to know your client on a personal level. It is important to seek to understand their Hair journey and and their Hair story.
Is this their first big chop, have they had any scalp disorders in the past, have they used products that have caused damage to their hair, etc.
What you think might be going on with your clients Hair might not be the major cause. You can by pass the struggle of misidentification, by asking about their Hair history.
3. You ask your clients about their Hair goal
When you spot a Hair issue, it is easy for you to think that getting rid of that issue is your clients ultimate goal. What if that is just at the bottom of their list and maybe their Hair goal is to grow waist length Hair in two weeks(lol!). The point is, you have to understand their Hair goal so you are not coaching amiss and then taking on the risk of a very dissatisfied client even though you have done a great job at resolving that particular issue.
Successfully identifying your clients Hair goal helps you manage their expectations and eliminates unwanted issues during the Hair Coaching process, and allows for a successful continuity with a great track record of positive solutions.
4. You personalize your approach
As much as the Hair type system has made its rounds and a lot of people have adopted it, it is merely there to assist people in being able to categorize their Hair in some way, however, no two head of hairs are the same. In fact, there is a tendency for some people to have two or more Hair types on their head. So what then do you do about that, how do you approach those.
This is why you must tailor each Hair Coaching session to you client's and make recommendations that are not generalized.
This is not to say that there won't be times when there would be need to make references or comparisons. But as the Hair Coach, you know when to do so and how far to take it.
5. You leave your Hair out of it
This point was mentioned somewhere above, but I'm going to break down what it means. It is simple, of cause you have great Hair first before people would be even willing to get coached by you right. However, there is a tendency for Hair Coaches to coach based on the methods they have used to grow and maintain their own hair.
This takes us back to the point of personalizing your approach. Not only do you leave your Hair out of it, you also do not put all your clients into one box.
If you are a Hair Coach or about to become one and you already do all this, then I'm super glad to inform you that you are on the path to becoming an even more notable one.
When you do all these, even your client would be able to attest to their experience with you. It would go beyond just results and you helping them on their Hair journey, but you will also become a go to and reference point for other Hair Influencers and Hairstylist.
From Influencer to Hair Coach: 4 Steps
You can get to become a certified Hair Coach where you can get access to loads of resources including question to ask your clients, how to build personalized regimens for your clients and so much more.
Follow this link to register for the Hair Coaching Webinar